Apple introduced AirTags in 2021, and over the last two years, the item tracker has been growing in popularity. Rumors suggest that Apple has a new version of the AirTag in the works, and while we don't know a lot just yet, a new model could be coming as soon as 2024.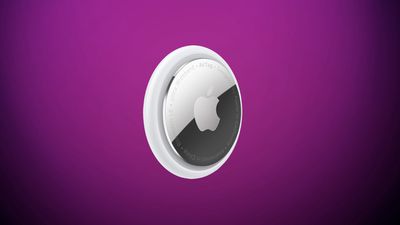 This guide highlights everything that we know about the AirTag 2 so far, and we'll be added to it as new rumors surface.
Design
There are no rumors of an AirTag redesign at this point, and Apple will likely keep the same general shape. There have been complaints about how easy it is to access the battery, which some worry could be a danger to children, so Apple could potentially change the way the AirTag opens.
The AirTag has a replaceable CR2032 battery, and there are no signs that Apple wants to transition to a rechargeable battery.
Vision Pro Integration
According to Apple analyst Ming-Chi Kuo, the AirTag will integrate with the Vision Pro headset as part of a spatial computing ecosystem, but he did not provide specifics on just what that means.
It's possible the Ultra Wideband chip in the ‌AirTags‌ could be used for relaying positional information to the Vision Pro in some capacity, or there could be some kind of VR item tracking interface.
Upgraded Ultra Wideband Chip
Apple is rumored to be adding an upgraded Ultra Wideband chip to the iPhone 15 models, so a future AirTag will likely feature the same upgraded chip. An iteration on the U1 chip could perhaps introduce better accuracy and improved efficiency for less power draw.
Launch Date
Mass production on a second-generation AirTag is rumored to be starting in the fourth quarter of 2024, which would suggest a late 2024 or early 2025 launch.
Popular Stories
iPhone SE 4 Rumored to Feature Action Button, USB-C, Face ID, and More
The fourth-generation iPhone SE will have an iPhone 15 Pro-style Action Button, among several other significant new features, according to the leaker known as "Unknownz21." Earlier this week, the leaker described the fourth-generation iPhone SE as "effectively an iPhone 14 derivative," echoing previous reports from the likes of Apple analyst Ming-Chi Kuo. In their latest tweet, Unknownz21 …
Gurman: Apple Planning Major 'Apple Watch X' Redesign to Introduce New Band System and More
Apple is planning a complete revamp of the Apple Watch for the device's tenth anniversary, according to Bloomberg's Mark Gurman. In the latest edition of his "Power On" newsletter, Gurman dubs the overhauled device "Apple Watch X," similar to the 2017's iPhone X that celebrated ten years of the iPhone. Since the original Apple Watch was unveiled in 2014 and launched in 2015, Gurman is unsure …
Top Stories: iPhone 15 Event Date, Apple Watch and Mac Rumors, and More
If rumors are to believed, we're now exactly one month away from Apple's big September event where we're expecting to see several product announcements led by the iPhone 15 lineup. In addition to iPhone 15 rumors, this week also saw fresh claims about the upcoming Apple Watch Series 9, while we're seeing more details about the M3 family of chips coming to next-generation Mac models. Apple…
September Apple Event: Four Announcements to Expect Beyond the iPhone 15
Apple is expected to hold its annual fall event this year on Tuesday, September 12, when it will announce its new flagship iPhone 15 lineup, but there are a few more products expected to be unveiled as well. Keep reading to learn everything we know about what else Apple is expected to announce at the event beyond the iPhone 15. Apple Watch Series 9 This year, Apple is expected to…