Apple "got close" to releasing an all-new 14-inch iPad model this year, Bloomberg's Mark Gurman reports.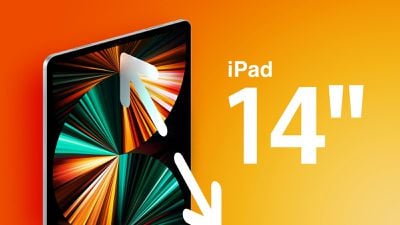 In his most recent "Power On" newsletter, Gurman said that Apple has been exploring the concept of an even larger ‌iPad‌ since 2021 and almost released a 14-inch model, in what would have been the biggest ‌iPad‌ to date, this year. Now, there is apparently no such product in Apple's imminent product pipeline.
One complication was apparently the transition to OLED displays in the ‌iPad‌ lineup, which could invoke considerably higher costs on larger tablet displays. As previously rumored, the first iPad Pro models are expected to top out at 13 inches when they go on sale in the first half of 2024.
Gurman was first to float the rumor of Apple designers and engineers exploring iPads with bigger screens that could further "blur the lines" between a tablet and a laptop. In January 2022, this was followed by the news that multiple suppliers, including BOE and LG, were converting factories to be able to supply Apple with OLED displays around 15-inches in size suitable for future ‌iPad‌ models.
The leaker known as "Majin Bu" then claimed that Apple was working on an ‌iPad‌ with a 14.1-inch display and the M2 chip – a rumor corroborated by oft-accurate display industry analyst Ross Young, who added that the device would have a mini-LED display but no ProMotion for variable refresh rates up to 120Hz. In July last year, he amended his forecast, saying that Apple had switched to an LCD display for the device, the likes of which are used on the iPad mini and iPad Air.
In October 2022, The Information's Wayne Ma reported that Apple was developing a 16-inch iPad that it hoped to release in the fourth quarter of 2023. The prospective device would have approximately the same screen size as a 16-inch MacBook Pro, providing users with a significantly larger canvas to work with. Finally, Young said in December that Apple had shelved its plans to launch a 14.1-inch ‌iPad‌.
Despite the tumultuous state of rumors about larger ‌iPad‌ models, Apple could still be interested in the prospect of launching such a device in the future. The biggest iPads that have been available since 2018 have been the 11-inch and 12.9-inch ‌‌iPad Pro‌. This means that the largest iPads are still smaller than the smallest MacBooks, the M1 MacBook Air and M2 MacBook Pro, which feature 13.3-inch displays. Since the 12.9-inch ‌‌iPad Pro‌‌ is already in a similar range to the 13.3-inch MacBooks and is rumored to increase to 13-inches next year, it seems like just a matter of time before Apple offers a significantly bigger ‌iPad‌ model.
Bloomberg has repeatedly discussed Apple's interest in bigger iPads and although the 14.1-inch ‌iPad‌ model that was in the works is now believed to be canceled, the 16-inch model last reported by The Information could still be in active development, although we have not heard anything about it for quite some time.