MacBook sales have dropped significantly amid Apple's decision to launch no new Macs for the remainder of 2023, Apple supply chain analyst Ming-Chi Kuo reports.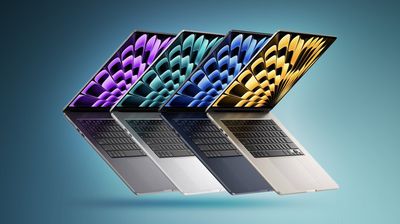 In a new post on Medium, Kuo claimed that MacBook sales as a whole are expected to be around 30% lower this year compared to 2022, reducing to about 17 million units. Kuo highlighted that demand for the 15-inch MacBook Air has dropped significantly following the end of the back-to-school period, revising shipment forecasts down by approximately 20% or more.
In September, Kuo reported that Apple is unlikely to release any new MacBook models with the M3 chip this year. With no new product launches for the rest of the year, Kuo now expects MacBook shipment momentum to be significantly lower than in previous seasons. Kuo said that declining work-from-home demand and waning appeal of Apple silicon and mini-LED displays are also driving down MacBook sales.
Kuo believes that one reason for Apple choosing to withhold the launch of any products is to clear inventory ahead of new releases next year. Apple apparently expects the M3 series of chips to boost Mac sales in 2024, but Kuo says this is yet to be seen.
In a previous report, Kuo seemed skeptical of new MacBooks with 3nm chips boosting sales. He warned that demand for these devices might be "below expectations" due to a "lack of growth drivers." Kuo is essentially saying that Apple will no longer have the growth catalysts that it did over the past few years, such as a pandemic-driven work-from-home boost in demand or the newness of Apple silicon, which spurred many customers to upgrade from Intel-based Macs. However, given Mac and iPad sales already significantly declined in 2023, Apple will at least have more favorable year-over-year sales comparisons in 2024.
Popular Stories
Leaker Claims New 11th-Generation Low-Cost iPad Will Launch Tomorrow
Apple will introduce a new low-cost 11th-generation iPad tomorrow, according to leaker Majin Bu. Majin Bu claims that the new iPad will have the same design as the 10th-generation model, and that accessories "will be perfectly compatible." Last week, the same leaker claimed that Apple would debut a third-generation Apple Pencil with interchangeable magnetic tips, and today's rumor comes…
iPad Mini 7 Rumored to Feature These Four Upgrades
The seventh-generation iPad mini will feature four main upgrades and changes, according to a Weibo leaker with an early track record for disclosing accurate information about Apple's plans. The account, known as "Instant Digital," claims that the seventh-generation iPad mini will feature four key differences, with no other other notable improvements other than the following changes. A16…
Report: Apple Pencil 3 With Magnetic Tips Likely to Be Announced Instead of New iPads
While multiple reports have indicated that Apple plans to announce updated iPad Air, iPad mini, and entry-level iPad models this week, Japanese blog Mac Otakara believes a third-generation Apple Pencil is more likely to be announced instead of new iPads. An excerpt from the report, computer translated by Bing:MacOTAKARA believes that rather than an update to the iPad itself, the Apple Pencil …
New Apple Pencil Announced With Hidden USB-C Port and More for $79
Apple today unveiled an all-new, more affordable Apple Pencil model featuring a USB-C port hidden behind a sliding cap. The new Apple Pencil is a cheaper model that sits below the first- and second-generation Apple Pencils in the lineup with a price tag of just $79. It features a sliding cap at the top that reveals a USB-C port, allowing users to charge and pair via a USB-C cable, with a…
Four New MacBooks on Schedule for Launch in 2024
Four new MacBook models with M3-series chips are on schedule to launch next year, Bloomberg's Mark Gurman reports. In his latest "Power On" newsletter, Gurman said that new 14- and 16-inch MacBook Pro models featuring the M3 Pro and M3 Max chips have now reached design validation testing (DVT), meaning that the devices are nearing mass production. He believes that progress on the new…
Apple Rumored to Announce New iPads This Week, But Gurman Says Release 'Won't Happen This Month'
Apple is making progress on new iPad and MacBook models, but Bloomberg's Mark Gurman believes that the release of these devices "won't happen this month." "More often than not, the company debuts new laptops and iPads in October — about a month after the latest iPhone and watch get out the door," said Gurman, in his Power On newsletter today. "And while I reported in July that Apple was…
Anker's Pre-Black Friday Sale Takes Up to 50% Off Popular USB-C Accessories
We're over a month away from Black Friday, but as always we're already seeing a few retailers kick off very early "pre-Black Friday" events. Today that includes Anker, which is offering up to 50 percent off select charging accessories, as well as a buy one, get one half off sitewide through October 18. Note: MacRumors is an affiliate partner with some of these vendors. When you click a link…
iOS 17.1 Coming Soon With These 8 New Features for Your iPhone
iOS 17.1 is currently available in beta, and it is expected to be released later this month. The software update includes several new features and changes for iPhones related to Apple Music, AirDrop, the Lock Screen, and more. Below, we have recapped eight new features and changes coming to the iPhone with iOS 17.1. When the software update is available, users will be able to install it by…
iPhone 16 Pro Rumor Recap: Larger Displays, Capture Button, 5G Advanced, and More
While the iPhone 16 Pro and iPhone 16 Pro Max are still around 11 months away from launching, there are already several rumors about the devices. Below, we have recapped new features and changes expected for the devices so far. These are some of the key changes rumored for the iPhone 16 Pro models as of October 2023:Larger displays: The iPhone 16 Pro and iPhone 16 Pro Max will be equipped…