Apple this week filed a listing for a 2023 watchOS subsystem in the Bluetooth product database. While not surprising, the listing suggests that Apple is gearing up to launch new Apple Watch models in September, as it does every year.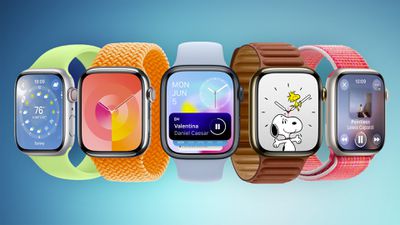 The listing does not reveal any specific details. The current Apple Watch Series 8, Apple Watch SE, and Apple Watch Ultra support Bluetooth 5.3.
This year's new Apple Watch models will include the Series 9 and a second-generation Ultra, according to Bloomberg's Mark Gurman. He expects both models to be equipped with an S9 chip for faster performance, and new color options are also rumored, including pink for the Series 9 and a darker titanium finish for the next Ultra. A third-generation Apple Watch SE is not expected to be released until September 2024.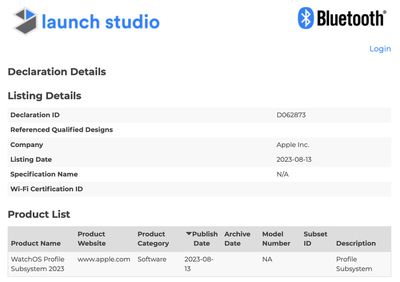 Overall, this year's new Apple Watches are expected to be minor upgrades compared to the current-generation models. Bigger changes are expected in 2024 or 2025, as Gurman said Apple is planning to launch a so-called "Apple Watch X" with a thinner design, and potentially a new magnetic band attachment system.
Apple should unveil the Series 9 and the second-generation Ultra alongside the iPhone 15 series during an event that is currently expected to be held on Tuesday, September 12. Apple has yet to formally announce the event.
Popular Stories
iPhone 15 Pro Expected to Launch Next Month With These 12 New Features
Apple is expected to unveil the iPhone 15 lineup in September. As usual, many new features have been rumored for the Pro and Pro Max models in particular, including a USB-C port, A17 Bionic chip, titanium frame, Action button, and more. Below, we have recapped 12 new features and changes rumored for the iPhone 15 Pro models. A17 Bionic chip: iPhone 15 Pro models are expected to be…
iPhone 15 Seemingly Spotted in Regulatory Database as Launch Nears
Apple's iPhone 15 is believed to have been identified in India's regulatory database, less than a month before the device is expected to be officially unveiled. Last August, just a few weeks before the announcement of the iPhone 14 lineup, a single iPhone 14 model was spotted in the Bureau of Indian Standards (BIS) database with the model number A2882. This turned out to be the standard…
Video: How to Use an iPad as a Screen for Your Nintendo Switch
If you're on the go and want to play your Nintendo Switch on a larger display than the tiny 6-inch to 7-inch screen that is built into the console, you're in luck if you have a USB-C iPad. With an app and a couple of accessories, you can use your iPad as your Switch display, as MacRumors videographer Dan Barbera demonstrates in his latest video. Subscribe to the MacRumors YouTube channel for …
iPhone 15 Might Support Charging Speeds Up to 35W
With the transition to USB-C, the iPhone 15 models could get faster charging speeds up to 35W. 9to5Mac says that it has heard from industry sources that "at least some" of the iPhone 15 models are able to charge at this higher wattage. At the current time, the iPhone 14 models can charge at a maximum of around 27W, with the Pro models able to charge a bit faster. An increase to 35W would…
Elon Musk Plans to Remove Option to Block People on Twitter
Twitter or "X" owner Elon Musk today said that the option to block people on Twitter is going to be "deleted as a feature" in the future, as it "makes no sense." Musk made the comment in response to a tweet asking whether there was a reason to block someone instead of muting someone on the social network. Mute and block are two fundamentally different features on Twitter. Mute prevents you…
Everything New in iOS 17 Beta 6
We're likely less than a month away from the launch of iOS 17 and iPadOS 17, which means beta testing will soon be wrapping up. Apple is now providing weekly beta updates, seeding out the sixth beta today. As we approach the end of the beta testing period, updates are getting smaller with Apple focusing on crucial refinements and polish, but there are still a few changes in the latest beta…
These iOS 17 Features Won't Be Available at Launch
Apple is expected to release iOS 17 in mid to late September as a free software update for the iPhone XS and newer. The update includes a wide range of new features, but not all of them will be available right away, according to Apple's website. Below, we have listed three features that Apple says are "coming later this year" as part of a future iOS 17 version, such as iOS 17.1 or iOS 17.2….